Hidden under a large alcove, in a canyon flanking a major Arizona river, you find this beautiful ancient site.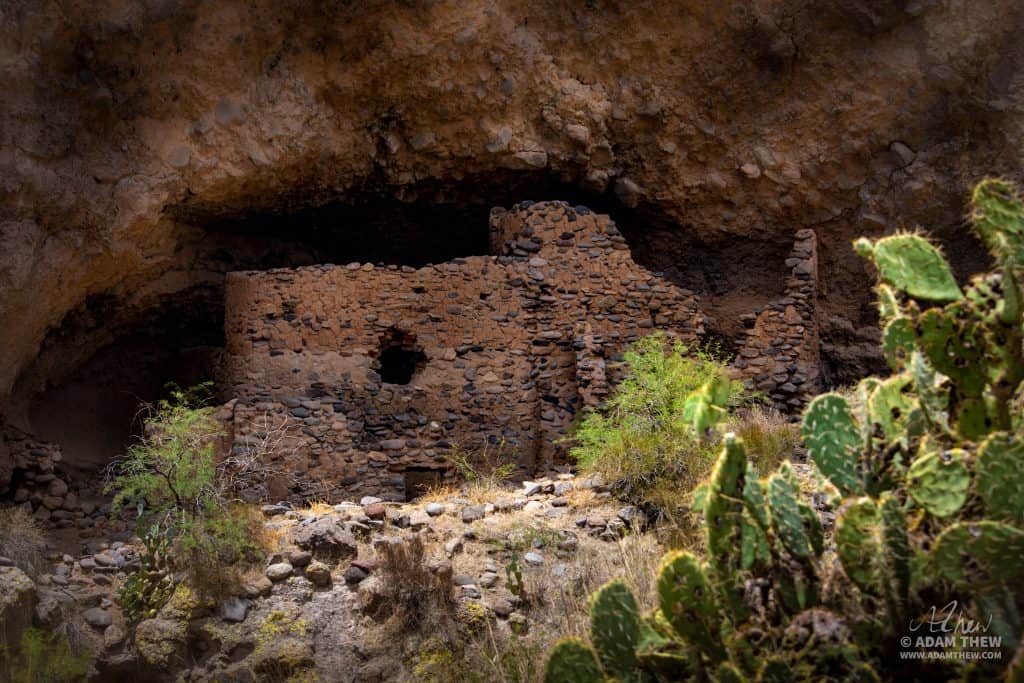 Today, two rooms comprise the main structure. Between the Southern and Northern rooms, you'll notice that almost nothing remains of the rafters that once supported the second floor—in fact, there are no timbers in the southern room. The roof is completely gone, and large portions of wall are also gone. These two rooms are linked by a T-Shaped doorway visible on the second floor, an interesting design not seen much in Sinaguan architecture (presumably Sinagua, it could be a different culture). Not that I measured, but from a look, and comparing my height to that of the highest wall, I believe it to be around 15-18 feet tall. Although no evidence can be found today, there was certainly a ladder connecting each floor at one time, probably located inside the main structure, through a hole in the second floor.
A space directly south of the southern room was likely a room itself. This room, and a couple less obvious rooms located on the periphery of the alcove, are connected by a hallway (see photo of me standing between two walls). Not much remains of these front rooms. This is due to greater exposure to the elements from the mouth of the alcove. We know these rooms existed because of a small perpendicular wall splitting the space. This wall is noticable, but not so significant that many people will consider it. Like the main structure, it is likely these would have had an additional floor.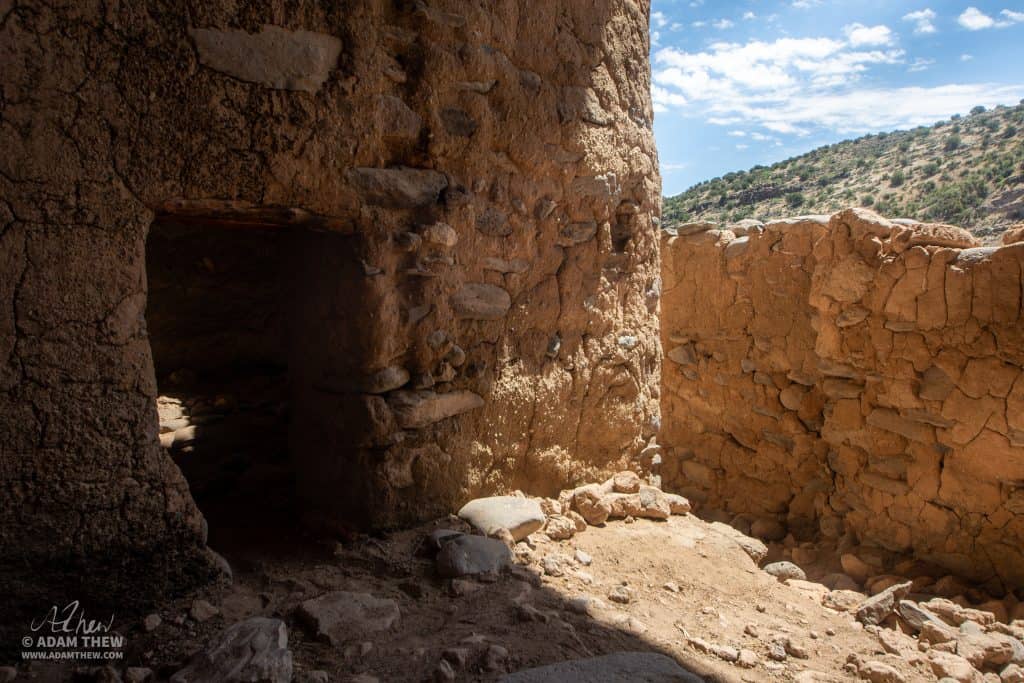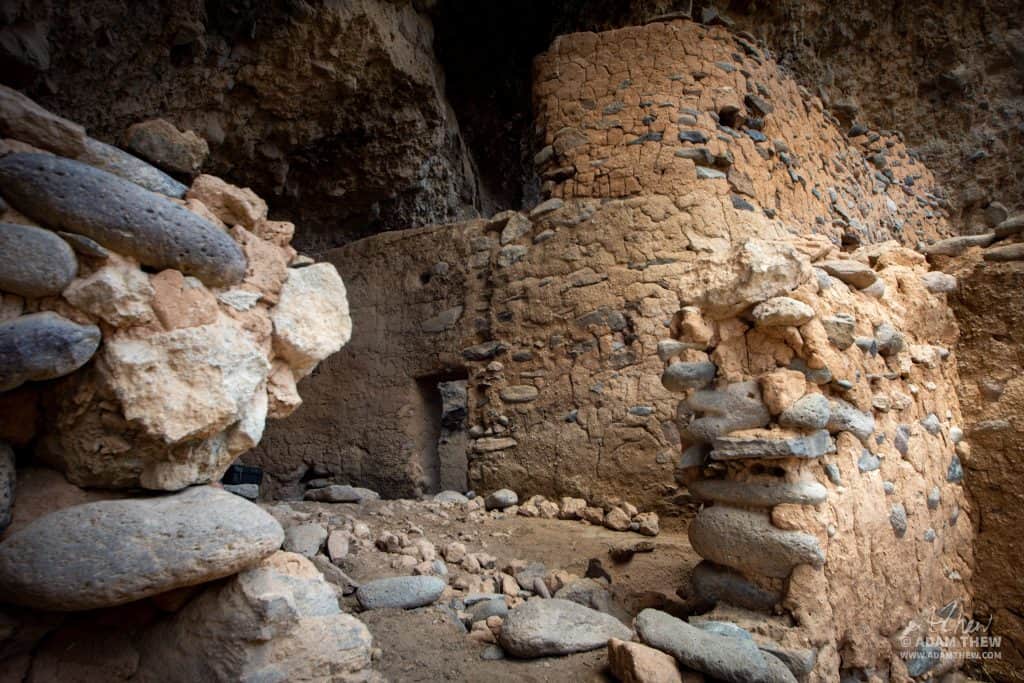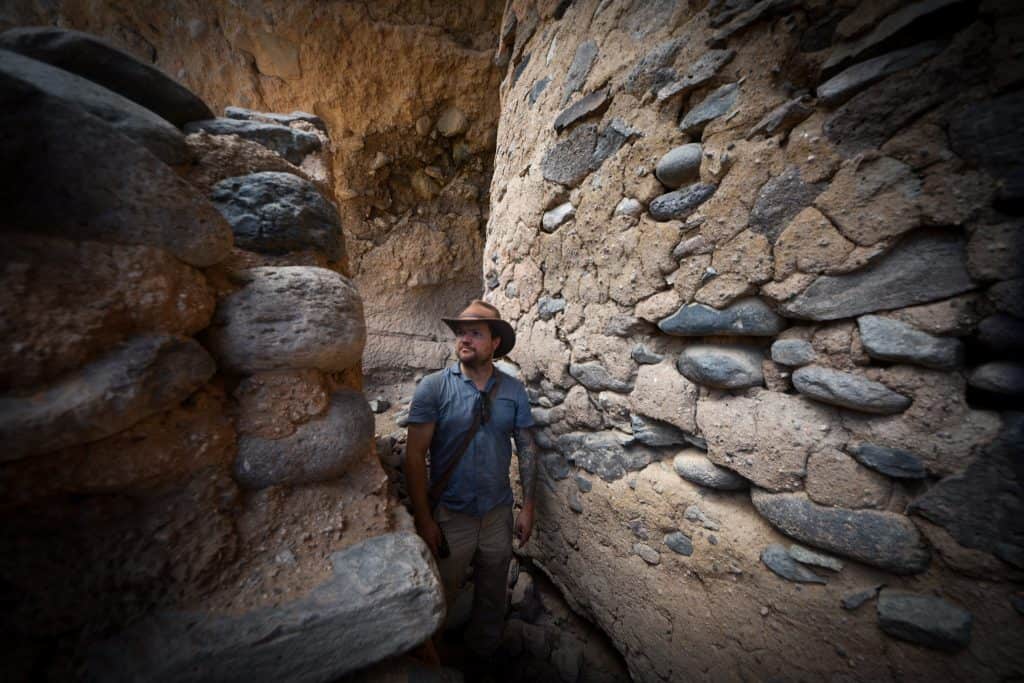 Unlike many dwellings in the vicinity, usually built with slab stone, this entire site is made of cobblestone. There appears to be a slight color variation between the top and bottom floors. It's possible this can be attributed to weather. It might also mean they were built at different times—perhaps adding a second floor after the population grew, but that's all speculative.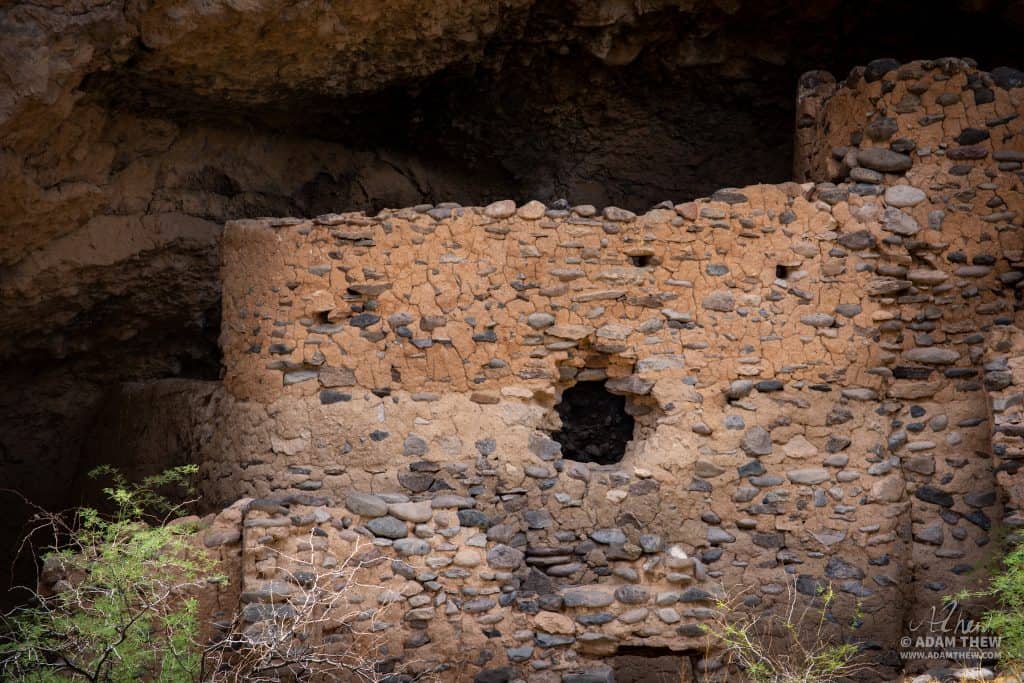 Looking closely at the mortar on the walls, there are many obvious finger impressions (regrettably I forgot to photograph this, so I'm sharing similar impressions from another site). Something like this is easy to miss to the untrained eye. As you visit ancient sites like these, you'll notice them more and more.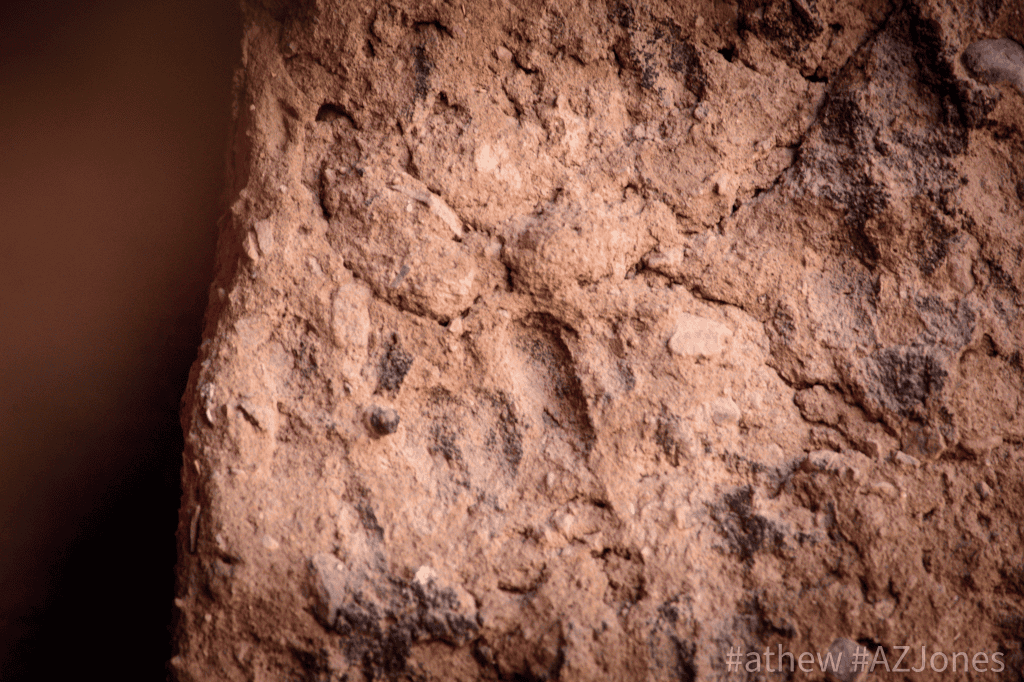 Not many artifacts remain on site, but some of the usual artifacts can be found such as pottery sherds, lithic scatter (flakes from making points such as arrowheads), and quid (chewed bits of yucca). Artifacts such as these help Archeologists determine the culture. Additionally, though not an artifact, per se, you can find bricks of hardened mortar incised with the lining of small timbers from the second floor.
We had to cross the river getting to and from this site, so there can be no doubt of their water source. If we had more time, I'm sure we could have found evidence of agriculture.

By the time we left, the sun was high in the sky, and it was painfully hot. We took some time to swim and relax in the river before hiking out. Although I'm normally prepared, I became quickly dehydrated, and I was just happy to get back to the vehicle.

I hope you enjoyed that read! If you would like to support my work, please consider one of the following:

GiveSendGo: https://www.givesendgo.com/theazjones
Patreon: https://www.patreon.com/theazjones
Store: https://www.theazjones.com/store