I LET MY SADDLE FALL, MY WEARY HORSE I TEND, DEAR LORD I HEAR YOU CALL, FOR I'VE REACHED THE END.
Poetic and unsettling, what's known as the Cowboy Prayer, reads more like a lament. Permanently transfixed along the divide between civilization and the Prescott Wilderness, sewn into a large boulder and overlooking a small waterfall—in such a peaceful setting, it can be hard to imagine what the author must have felt in what seems to be a cowboy's final testament.
Because of his years of experience and knowledge of petroglyphs, I asked my friend Peter Stiles for his take on this historic graffiti. I have paraphrased his assessment below:
I think it's an old cowboy "testament," but I don't believe it's been there very long. Looking at the patina of the lettering, there's only minimal weathering. The letters on the left side of the inscription, they appear to be more weathered and the lichens (or moss) have begun to fill in the scratches a little bit.

It could be up to 100 or 200 years old. Note the letters on the right side of the inscription: They look as if someone recently re-scratched them. They appear fresher, more recently scratched. It's possible someone came along and renewed the engraving. I'm betting it's not over 100 years old.
When speaking to a local resident, he was reminded of his own visits to this very rock, back in the 60s. He recalls that the inscription was "incomplete." This does support Peter Stile's suggestion that a portion of the engraving was redone. This might also explain the extra letters between the third and final sentences.
Regardless of its age, one can't help but imagine what the author endured in these apparent final moments. All we really have is speculation and educated guesses. It's possible in his day, when Prescott was much smaller, he became lost in the wilderness, unable to find his way back to civilization, his body slowly succumbing to the summer heat—and this poem, his final goodbye to his family and friends.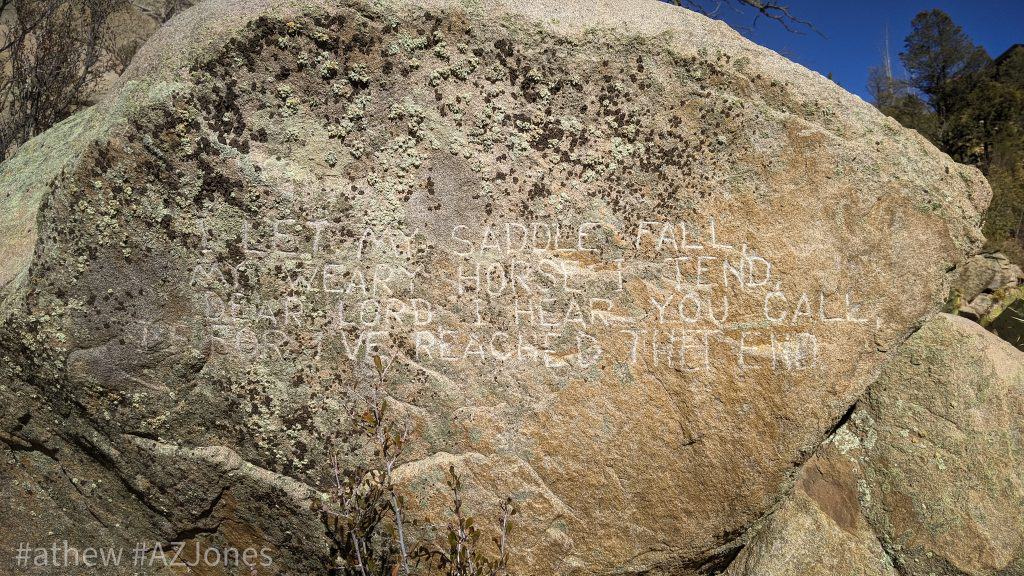 I hope you enjoyed that read! To stay up-to-date on all things Arizona Jones, be sure to subscribe to my weekly newsletter! And, if you like my work, please support me, by visiting my online store, and sharing my articles on your preferred social media!